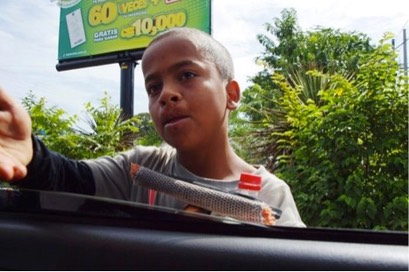 Visits during the contact conference between Verbo, BL and IAS, July 30th - Aug. 5th 2012 Monday
Danish Cham
ber of Commerce:
House of the Chamber
Daily leader of Chamber, Amanda and Tove
Churreca Dump with houses / homes
They are worth a more decent life
Homes in the dump
Churreca (Dump School)
- Right outside the dump. All the children are marked by drugs, criminality, prostitution, sex industry etc. Everything bad happens at the dump. The school is right in the middle of this. A light in the darkness. It is a Christian school, which was taken over by Verbo 8 years ago. 320 children, 1-6 class. Older children can come and have "catch up" classes. The children get 2 meals a day.
Rescue homes for boys and girls
- Rescue homes not too far from Verbo, Managua, for girls (9) and boys (8) from Churreca
The children live her as in a refuge. Some of them have parents, and some parents have asked the refuge home to take care of their children, because they themselves cannot. The children have been hurt by prostitution, drugs and other things going on in the streets or in the dump area. The children go to school in a nearby school. Jenni leads the girls' home.
Rescue Home for girls
 School in the middle of the dump
Nueva Vida Hurricane Mitch Ministry site
- 1200 children are being fed every day. There is a clinic with a doctor, almost every day.
A bakery and used clothing shop for training as well as sales, a small café which sells bananas and other fresh grown produce, in addition to noon day meals are served for sale to the community and food is prepared for the gathering of special community events. Animal production includes shorthair (pelibuey) sheep and pigs. The children and single mothers are trained to make jewellery for sale
Colegio Christiano Verbo, Vera Cruz
- school with 205 children, 83 of them from the orphanage nearby, with the complete, pre-kinder,
Handling second hand clothes is new activity
Bakery delivers bread  - on demand 
Many, many children get food every day
 Small café on the compound
1-11 schedule of classes. The children from here go to university or learn vocational skills like repairing bicycles, helping with the farm production and other vocational skills. There are 20 hectares of farmland. Currently growing a special Taiwanese variety of papaya, corn and many existing mango trees. They cook marmalade from, the mangos, pineapple and Rosa de Jamaica (Hibiscus). A large Green house has been used for extensive vegetable production
 Verbo Farm / orphanage
- orphanages for girls and boys (5 min. from the school at the farm): The little children - until 12
Teen-age girls
Teen-age boys
Boys 19-25 years A total of 88 children in the orphanages
The Verbo School
One of the classes
Green house
Fields for training and providing food
Boys sleeping room in orphanage
 Youth center
In addition to care for the crops, the children are involved in learning tourism and hotel management, cooking and cleaning skills while working at a the 'team center' hosting groups from out of the country.
From Managua and other places (also from the authorities) children are sent to this place.
A psychologist, who earlier worked for the government, now is a psychologist in this place.
The children all go to school at Colegio Christiano Verbo on the farm until they reach the age of higher education.
Sub Urbana Church / Children's center
- Feeding center for Managua Sur + tutoring of children. University students help them with English, Spanish, Math. and social studies.
MCV purchased a 1.5 Hectare piece of land, and have fought with the government about a piece of land for 14 years. The government wants that piece of land and will not give them another piece of land in return. The government claims it wants to build some more houses for very poor people - in memory of the Sandinistas. However they have sold now 600 lots (with no pre-built housing), serving a population of 6000, with mostly children living in this slum receiving attention in the Verbo center. The children have no sports facilities, there is nothing to do. No school. No entertainment or recreational. Most children here never get away to a zoo or some other entertainment. The Verbo church here some times are able to take some of the children to the zoo, or park, or even the beach for some wholesome, enjoyable time together. 75% of the parents are without work. Because of the nutritive quality offered by the feeding center only 12% of the kids are actually, medically under nourished. Nationally this figure is 19%.

Ruby Ranch (potential children retreat center) El Rancho (potential large children's academy)
Neither were able to be visited due to time restraints, but the goal remains to obtain and open a children's center that would be able to serve vocationally and recreationally a much large percentage of Managua and the children all suffering from the presence of gangs and serious lack of education and access to wholesome areas of entertainment. This may be possible in the current locale of the MCV current central church location.
Children get food and education 
Pastor and his wife tell about the work
Segundo Paso - Jeremy's youth program
– here children are bussed in from around the city to receive intense training in life skills and are economically assisted to be able to attend the school in their neighbourhood. This model may be reproduced around the many sites of Verbo ministries in Nicaragua.
Teaching them ni basic skills
Meeting children and youngsters one-by-one 
Children in the street
At traffic lights children wash windscreens hoping to be paid a little for their service. We wish to help creating at better future for them.