Lidt nyt fra de lokale medarbejdere i projektet.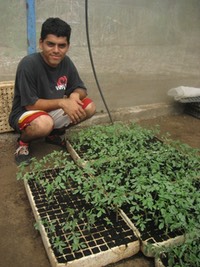 In April we had several tremors/earthquakes over the course of two weeks.  The damages in the country were very few in spite of the strength of some of the tremors.   As a result the government took extra precautions by canceling school week to week.  By the end schools in this part of the country had missed a month of classes.   We were very thankful once the government allowed schools to open once again.  We were happy to have the children of the orphanage back in school and back in the routine of the daily life.  The children have now been back in school for about three weeks.
The vocational training for the children is marching along well with the occasional issues/problems or other logistical challenges.  We recently had many of the crops dying that the children had been planting and taking care of.  Our agronomist Ada Francis was making sure they were being taken care of so we were confused as to why the plants were dying.  We've come to the conclusion that it might be a result of a water filter we recently installed for the well.  It is possible the filter is taking certain chemicals and nutrients that are vital for the plants.  We are continuing investigating and hope to have this issue resolved soon.  It is a good learning experience for the children to learn that in life as in this project the little things can make a big difference in determining success.  The greenhouse is all prepped and ready for planting bell peppers but we are wanting to get the water situation figured out first so we don't kill a whole crop.  We are also doing some experimenting growing a special variety of onions.